Located next to Haiti, on the eastern part of the island of Hispaniola, in the Greater Antilles, Dominican Republic is one of the most visited destinations in the Caribbean region.
It is the second-largest country in the region, after Cuba. Its capital city is Santo Domingo, and the official language is Spanish.
In Latin America, Dominican Republic has the ninth biggest economy, which has grown fastly for the past 25 years.
Over there, you will find mountains, rivers, lakes, lagoons, and indeed beautiful coconut beaches.
But, is the Dominican Republic a great destination for Digital Nomads? How is the internet there? Are you allowed to work remotely from the Dominican Republic? Is there any specific Visa you should apply to?
Let me go through all that with you in this article.
Internet in the Dominican Republic
Speed
At the speedtest.com Global Index, the Dominican Republic ranks at the 70th position.
For fixed broadbands, the average download speed you can expect would be around 32Mbps while the average upload speed should be about 10Mbps.
Some hotels and some Airbnb accommodations will be equipped with Fiber internet networks, and therefore will provide you with a much faster internet speed, up to 100Mbps.
Wifi Coverage
Fixed broadbands will be available to you in all the cities and most of the tourist places.
It is very uncommon to find a hotel that won't have a free Wifi network for its guests.
The most rural parts of the Dominican Republic won't be that well covered though.
If you are an adventurous digital nomad wishing to go off-track, you will need to rely on a Mobile Data Plan.
Dominican Republic Visas
Quick Covid-19 Info
The country is open for tourists with no restrictions at all
Digital Nomad Visa
There is no digital nomad visa in the Dominican Republic. There will probably be one soon, but nothing has been confirmed for now. And the Covid-19 is not helping as you can imagine.
There are possibilities tough for those who wish to work remotely from the Dominican Republic.
You would apply for the Visa called "Residence Visa" which will allow you to get access to the following permits of residency:
Temporary Ordinary Residence (RT-9)
With this permit, you can stay up to one year by default. But it is possible to stay longer. Each year of stay will cost you 5,000 Dominican Pesos (about 280 USD).
There is a long list of documents and processes you will need to go through to get this residency permit. See more info here.
Residence permit for investors
If you are planning to invest more than USD 200,000 in the Dominican Republic, this is the permit you should go after.
Due to the complexity of this type of permit, I suggest contacting the immigration services to get more information.
Teléfono: 809-508-2555 Ext. 2016/2037
Email:  jcedeno@migracion.gob.do
Residence permit for rentiers
This permit is the preferred solution for people on retirement or for people who have monthly passive incomes over USD 2,000 who wish to settle in the Dominican Republic for at least a few years.
The fees are more expensive than for the ordinary residence permit. You'll find more information on the official immigration office page here.
Regular tourist Visas
If you are planning to stay less than 30 days in the Dominican Republic, you will be able to enter the country without any visa. (There are only a few countries for which a tourist visa will be required). Check the embassy website which is located in your country to be 100% sure.
On arrival, a travel card will be given to you, though. It costs about USD 10. However, this fee is included in the price of your flight.
Once in the Dominican Republic, you will be able to extend your stay by up to 120 days. You can find all the information you will need to extend your stay here.
Best Season to stay in the Dominican Republic
The Dominican Republic climate will be very similar to all the other countries in the Caribbean region.
From May to October, it will be the wet season. This means that it will be hot, humid, and even rainy during some months.
It is not a bad time to visit the country. It is just not the best. Most tourists will prefer going there from November to April, during the dry season.
The weather is usually great during this period, and for the first few months (From November to January), the temperatures are cooler.
Ideally, if you plan to visit the Dominican Republic for one month or two, you should go there at the beginning or at the end of the tourism season. November and April should be the best months.
Best Spots in the Dominican Republic to stay in and to work remotely from
Santo Domingo
The capital city of the Dominican Republic is known for its architecture, its cultural spaces, and its history. You will love visiting the city and find yourself in beautiful spots offering amazing views of the city and the sea.
Image by Fabio Guimaraes Gomes from Pixabay
For less than USD 200 a week, you can find decent rooms in hotels such as Hotel Class Colonial.
Or if you prefer backpackers' mood, for the same price range, you could stay in hostels such as Island Life Hostel.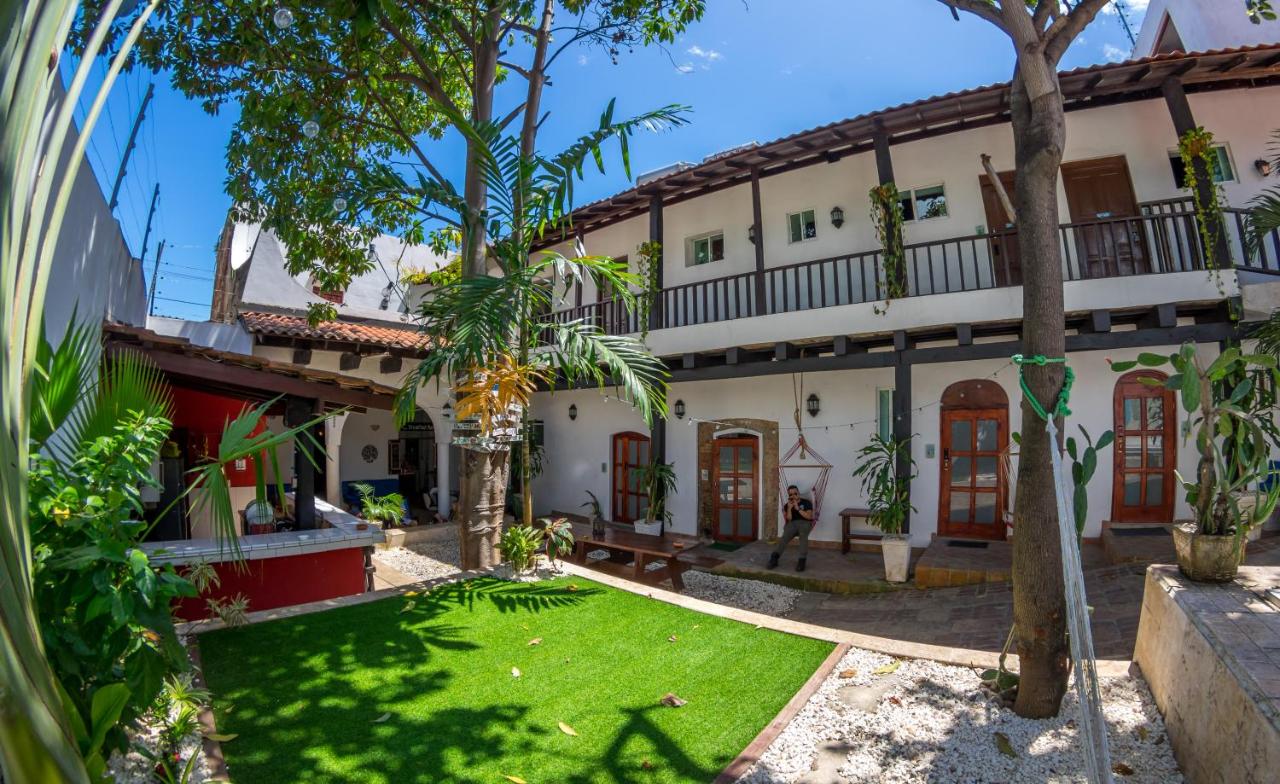 On Airbnb for about USD 50 a night, you should be able to find places like this loft as part of a Villa from the 15th century.
View On AirbnbLoft#6 with pool inside a 1500's Villa
You might want to check Hoodmaps before booking your accommodation, it is a great resource to use to find the best area to stay in Santo Domingo. It will tell you, based on other visitors' experiences, what kind of neighborhood your hotel will be in.
Remember to also check Nperf.com's map to make sure you will get the 4G signal you will need to work from your hotel in Santo Domingo.
Punta Cana
Punta Cana is one of the most famous destinations for all-inclusive resort lovers. It is located on the East coast, where the Caribbean Sea and the Atlantic Ocean are meeting, in the Costa del Coco region.
You will find there 32 km of white sand beaches, with crystal clear water.
Accommodation prices will be expensive there unless you decide to stay a bit far from the beach.
While the beaches will be absolutely stunning in Punta Cana, there might be better options for you and for your wallet.
Bayahibe
Bayahibe is a little tourist town located next to the La Romana, not too far from the capital city and the international airport.
It is known as a great diving spot as it is just in front of the Dominicus reef, and as there are three famous shipwrecks there. Divers love exploring old shipwrecks.
The beaches are great in Bayahibe, and the accommodation prices are much more affordable than they are in Punta Cana.
For less than US 70 a night, you could stay in a resort such as Cadaques Caribe resort, located right on the beach.
View On AirbnbCadaques Caribe resort
There will be much cheaper options available to you though.
Cabarete
If you are into windsurfing, kitesurfing, and sailboarding, Cabarete will be the perfect place for you in the Dominican Republic.
It is located on the North coast, 200km from the capital city. It belongs to Puerto Plata Province.
Cheaper than most of the other tourist destinations in the country, you should be able to find beachfront accommodations for less than USD 50 per night.
View On AirbnbSpacious Apartment on Kite Beach
Digital nomads community
There are lots of nomads in the Dominican Republic. Making friends while working remotely from there should not be a problem.
The best option for you would be to join the digital nomad largest groups on Facebook and to present yourself in a post there.
There will be friendly people that will respond to you to help you find the best accommodation, or to explore the best spots in the country, or to simply have a drink and a nice chat.
Featured Image by Michael Baum from Pixabay